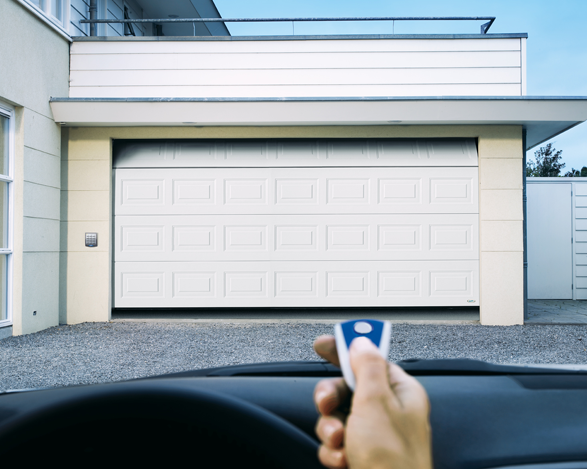 Did you know that electric garage door openers have been available since the 1920s when they were invented by a man named C.G. Johnson? Despite this fact, there are still many homeowners out there that used manual garage doors. Just about every home is going to have a garage attached or detached. These buildings are extremely handy and provide a safe haven for vehicles, tools, along with an abundance of other items. That being said one interesting fact that most people don't know is that electric garage door openers work in the same manner as a bomb detonator. That might be interesting, but there really are a number of reasons that homeowners should consider switching to an electric garage door opener.
Enhanced Security
When it comes to security, you will not find anything better than the electric garage door opener. A simple manual garage door can easily be pried open with a crowbar and a bit of manpower. If you are looking to buy garage doors in New Jersey, you will find that some of the newer electric garage doors come with rolling codes, which make them almost impossible to penetrate. In addition to this, there are many garage doors that will automatically close after you step outside or pull your go out so you never have to worry forgetting to close the door behind you.
Complete Convenience
It probably seems a little obvious, but one of the biggest advantages of an electric garage door is that they are more convenient. You can simply open the door or close it without getting out of the vehicle. Getting out of the vehicle to open the door might not seem like that daunting of a task, but it is when it pouring down rain or snow outside.
Provides Lighting
Another excellent benefit of the electric garage door is the added lighting. Your garage is filled with an assortment of heavy items and greasy puddles. Such areas require careful and cautious navigation. This will be especially true in the dark. With a manual garage door, you might have to carefully navigate your way fifteen or twenty feet into the garage before you reach a light switch. Fortunately, this is something that you won't have to worry about with electric garage doors. Most electric garage doors come affixed with an extra light that comes on when the door opens or closes. The light will stay on for a short amount of time and cut off. This is certainly going to be an added bonus if your garage is packed full of items.
Low Energy Consumption
Most people are hesitant about switching from a manual to an electric garage door because they simply don't want to add another power sucking device to their home. After all, you are probably already paying enough for electricity at it is. Well, you will be happy to learn that electric garage doors are one of the least power consuming devices that you can install in the home. They only utilize a minute amount of electricity and you probably won't even notice the extra charge on your bill.