With spring fast approaching, the temperature slowly increasing and the development of new life all around comes everyone's favourite time of year: spring cleaning! You may groan, but it's the perfect opportunity to give your home a deep clean, creating a fresh and clean atmosphere to match the season.

We've compiled a list to help you target the key areas that will likely benefit from a clean. The list may look daunting but you can tailor it to your own home, cleaning where you think it's needed.

Let's start by looking at some hints and tips to help make the spring cleaning process a little easier.
General Spring Cleaning Tips

The idea of starting spring cleaning may not be the exciting proposition but there are a few tips that can help maximise your productivity.

Try to get all of your family involved in the cleaning process. They will likely all contribute to the mess so it's only fair they help clean it up. You could assign rooms to certain family members or allocate jobs to be done in every room.

If there's only one or a couple of people cleaning, we recommend you go room by room. This will help you keep track of the cleaning and let you tick off a room as you go.

Work from the top to the bottom, vacuuming and mopping last. This will ensure any dirt knocked onto the floor whilst you're cleaning is picked up. It also saves you doing the job more than once.

You could also use the opportunity to declutter or rearrange your home. Clear out anything you don't have a use for any more to create space and rearrange the furniture if you fancy a change.

Next, let's move onto the cleaning itself.
Spring Cleaning 2019 Checklist

Here's our checklist of the key areas you should address during the spring cleaning season. We've covered the general tasks for everywhere in your home and separated jobs out for specific rooms.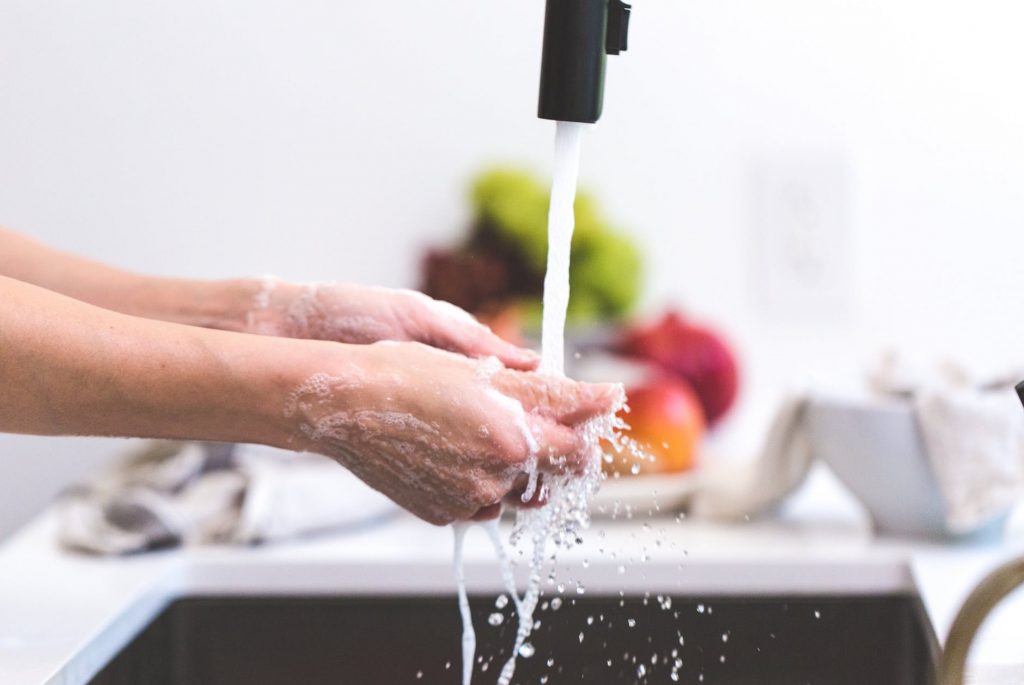 General

Wash windows – indoors & outdoors
Clear and dust windowsills
Wash doors and handles
Clean skirting boards/baseboards – repaint every two/three years
Dust tops & corners of walls for cobwebs
Dust light fixtures
Dust all furniture & surfaces
Vacuum floors
Shampoo carpets & rugs
Clean blinds
Clean light switches
Dust ceiling fans
Wash curtains (if required)
Hallway

Clean doormat
Organise jackets & shoes – switch winter for summer
Kitchen

Clean oven
Clean hob/gas stove
Clean microwave
Deep clean pans & trays
Empty toaster tray
Clear and clean countertops
Defrost freezer
Clean dishwasher – refill salt and rinse aid
Clean refrigerator – throw out expired products
Organise cupboards & drawers- throw out expired products
Clean cupboard fronts & tops
Clean kitchen bin – add scent to freshen
Clean behind appliances – refrigerator
Wipe backsplash and backboard
Disinfect sink, taps & drying rack
Mop floors
Wash dishcloths & tea towels
Replace sponges
Clean shopping bags
Bathroom

Clean showerhead
Clean grout
Clean extractor fan
Clean tops of cabinets and cubicles
Clear medicine cabinet – remove old & expired medicine & makeup
Deep clean sink & toilet
Clean shower curtain
Wash bath mat
Clean mirrors
Disinfect the toilet brush
Deep clean bath & shower
Bedrooms

Flip/rotate the mattress
Vacuum mattress
Swap autumn/winter sheets for spring/summer
Wash/clean pillows as appropriate
Clear wardrobe – donate clothes as appropriate
Pack away winter clothes and replace with spring/summer
Clean & organise under the bed
Wash & remove winter blankets
Living Room

Clean sofa & chairs – remove cushions
Wash cushion covers where appropriate
Wash & remove winter throws
Clean remote controls
Wash pet beds
Utility Room

Clean dryer lint
Clean limescale from iron
Check & clean washing machine compartments
Garden

Remove weeds from pathways
Clean paths – pressure washers work well
Check & clean gutters
Clean bins
Final Touches

Once you're all sorted and your home is looking dazzling clean, finish off by adding a new spring air freshener. This can give your home a added feeling of freshness.

You could also use the opportunity of spring cleaning to test out your safety mechanisms like fire and security alarms.

You could also clean out your vacuum cleaner and replace any dirty mopheads and cloths. This will help next time you get the cleaning bug.

When you're completely done, make sure you treat yourself for all of the hard work and effort you've put in! Take a night off cooking and keep your kitchen clean by going out for a nice meal or take away as a well-deserved reward for your efforts.
Author Bio

This post was written by David Atkinson, a content creator at Icon Wall Stickers. David is a passionate writer who focusses on home decor and interior design in his role at Icon.