The living room is the room where we spend half of our life, most of the time seating in the front of our TV and drinking the favourite coffee. The room that needs the most of our attention and the best design of any other room as a part of the house. Today, our topic says: These luxury living rooms are a synonym for beauty! Check the photos and find out if we haven't made a mistake with the title!
Spend some minutes on our inspiring website and read about other design ideas about the mesmerizing living room that defines beauty! Invite your friends to see these ideas if they are in plan to design their new home!
Living rooms design for 2018, simple and unique
The trend design for this year is simple furniture ideas, with only a few pieces in this room. Light colours for the interior and hanging ceiling lighting. About the colours, the best choice is grey, green or white. Which one would you choose for own house?
Multi-level home design for one living room
Breathtaking design for one simple room that has everything we need for staying in and admiring to the modern decoration. Breezy decor including two small coffee tables, two sofas, ceiling lighting. I invite you to follow our website where you will have an opportunity to see the whole house design and we will climb up to the stairs to see the design! Keep following us!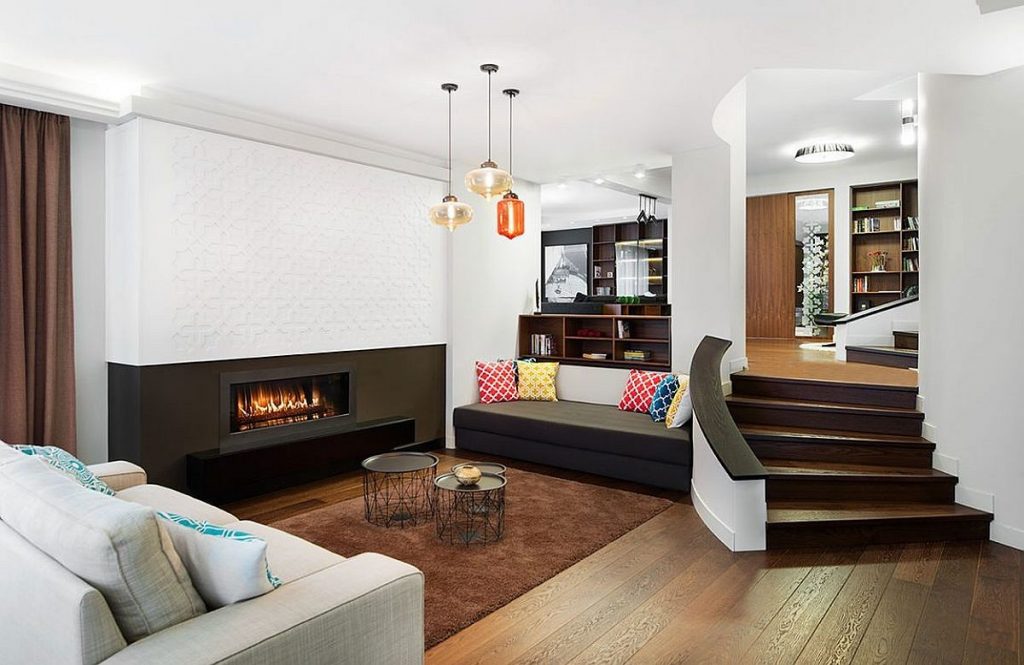 Photo via www.decoratorist.com
Black and white living room with clean & cool lines
In the following image, we can see the beautiful ceiling with lighting. On the Tv wall, we can see 3D wallpaper with vertical lines. On the opposite wall, we can see a picture framed wall and about the ceiling – hidden lighting.
Bright colours used in the interior is trendy
Halls of the room can tell a lot about the design, white walls tell that simple design with bright colours is the best for one modern house. Living rooms with light carpet, light walls, light decorative elements is what people dream for. Would you choose this living room to be your future home? YES, or No tell us in a comment below this link!
Green Chic Living Room Design Interior
As I mentioned previously, green is another trend colour for this year. I will choose this colour not just for my living room but also for my all apartment. Read about how can one impressive green apartment fascinate you for sure.
Floor lamps are part of one room design
As a part of one living room are included tall floor lamps. To find creative ideas, check the hereinafter link which offers you the best floor lamps.
3D Wallpaper – another idea for modern living room design
3D wallpapers used for living room walls was modern, are now modern and will be modern until we live. A very nice solution for some simple wall that can be easily transformed into the most spectacular wall of a whole house.