Whether luxurious, sleek or cozy, hotels bathrooms are the perfect getaways. The bathroom is the busiest room in the home, and it is one of the most irritating to maintain and clean. Don't despair – there are so many smart tricks and tips that will show you that the days of wearing cleaning mask and rubber gloves are over. You can transform this tiny space into a space where you will want to stay forever.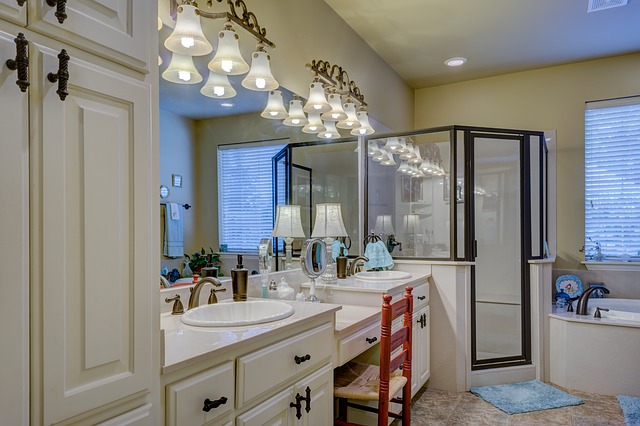 Creating a clean, organized and storage friendly bahtroom may be just what your home actually needs. This means that every bathroom element in your tiny bathroom should have a purpose.
The best part of having a small bahtoom is that you will spend less time in cleaning! The bathrooms in all five stars hotels are cleaned every day, even if the same guest are staying night after night. You may don't have time to clean the entire bathroom every day, but you definitely have 5 min to wipe the sink, faucet, mirror or counters. By cleaning 5 minutes a day, you will keep your bathroom shiny. Keep reading to learn what you need to do to keep your bathroom shiny and organized.
Clean the mirror
The mirror can get so gross, covered in dust, toothpaste, and makeup. There are moments when we can hardly see our face. Spraying cleaning products on paper towels tends to leave a streaky shine. So, I advise you to try this trick instead. Brew 3 bags of black tea. Pour the tea into a spray bottle and use this to clean the mirror. For shinier windows, instead of paper towels, use newspapers.
Clean the toothbrush holders
When your toothbrush holder is getting clogged up with soap scum, don't throw it away or spend time to clean it on your own. You just need to toss it in the dishwasher and that's it!
Clean shower scum
If you are sick of staring at soap scum while showering, then it is a perfect time to clean it! You need to fill a dish wand with half dish soap and half vinegar and scrub the nastiness away. This mixture will make your tub sparkling in just a few minutes.
Remove hard water stains
The unsightly stains on the faucets and other metal hardware can make the bathroom look uninviting and dirty. To get rid them of, try scrubbing all metal surfaces in your bathroom with a lemon. This amazing trick will not just remove the hard water stains, but will make your bathroom smell great.
Clean the toilet
Did you know that you can clean the bathroom using white vinegar? This product that you all probably have in your kitchens can kill the bacteria, germs and mold, and can make scum vanish.