Who doesn't like wood walls? Wood is the material we use for amazing interior furniture, we use it for the flooring but also we can use it for the house walls. I am sure that you will like the following enticing wood wall ideas, so check the photos and read the full text. You will see the wooden disk as a wall idea, wooden blocks and bricks, wooden mosaic in frames for wall art.
Scroll down and see amazing, inspiration, alluring, enticing wood wall ideas that you can use to beautify the walls of your modern house! Feel free to share these lovely ideas with your friends and with people who are planning to renew the home design.
Disk wood wall ideas to inspire you
Until now, we have seen stacked bricks wall, gypsum board wall but the best of the best is a wood wall. In the following photo, we can see a wall made of disk wood. Disk wooden slices can look amazing instead of blank walls that make one house design boring.
Dimensional art made of painted wooden bricks
Wood as a material allows you to play with it. You can play with the shape, you can play with the colours. This is an interesting dimensional art made of wooden slices. Hee, you have a combination of many colours like white, blue, dark black and grey.
Stacked wooden bricks ideas for a house walls
When I saw this photo for the very first time I thought OMG this is some mistake, this is not a wood but stacked bricks. Finally, to understand that this wall is actually made of WOOD. Beleive or not these are stacked wooden blocks that we can surely call it ART.
Stacked wooden blocks as a wall
Wooden blocks can be stacked and in this way to get an awesome wall made of wood. Wood is an excellent protector, isolator that will keep your house cold in the summer days and hot during the winter period.
Frame with wood art
Your house walls can look better if you buy this frame of wooden art! Wooden slices different in size makes the best house walls decoration you can ever see in life! Buy this frame and add it on the simple walls of your house place.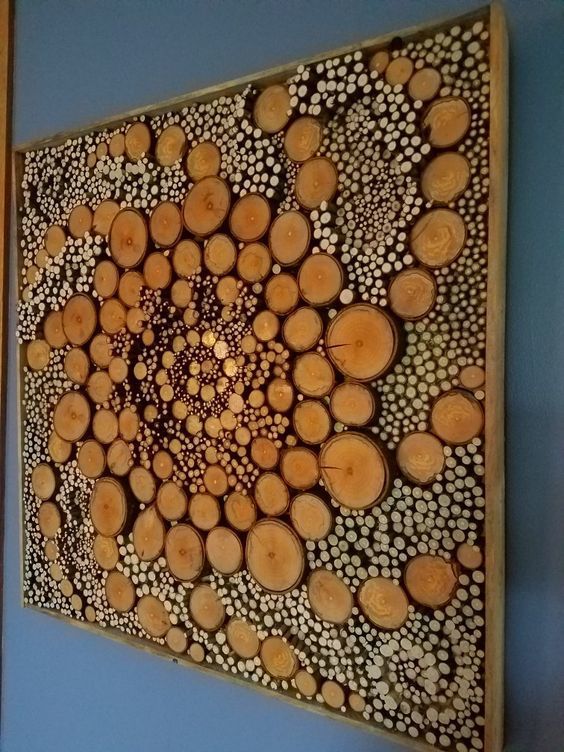 Photo via www.stroysam.news
Wood mosaic squares wall art
Designers have learned how to play with the wood. So, they are creating handmade furniture that looks incredible, wood mosaic squares that looks more than a beautiful. I have NO WORDS to describe this wall art made of wood. Do you like it?
Built-in wall niche shelves made of mosaic wood + hidden lighting
Wall niches with hidden lighting are the best part of the interior design. But is really the best part of the interior when the wall is made of wood! Thanks for reading this amazing post, keep following us in future, my dear friends! Enjoy the rest of the day!