One of the most important parts from our home is the dining area and the kitchen and this is why we chose this topic for today. We will show you how to maximize the space at home, to have a place for the small kitchen and also a place for the dining area. The only thing you should do is to take a look in the photo now and fins some idea for your small home.
We will start this post with photo collage where you can see the full organization of these two rooms that play an importnat role for our home. This is a dream for every home and modern dreamy kitchen makes cooking easy!
An efficient small kitchen can be possible if you have a corner kitchen sink like is shown in the photo. About the dining table, you can add it next to the kitchen cabinet and be circle-shaped. Circle-shaped tables for dining room won't keep your space and you will be happy with the design. Eat here special food with friends and family and don't forget first to see the other photos that will help you make the full concept of home.
Bricks walls are a nice choice for the dining room wall and you will have the chance to see in the photo now. As you can see also there is a gallery wall with photos from family members, a nice yellow lamp, curtains in different colors and all these elements makes the home looking nice and perfect.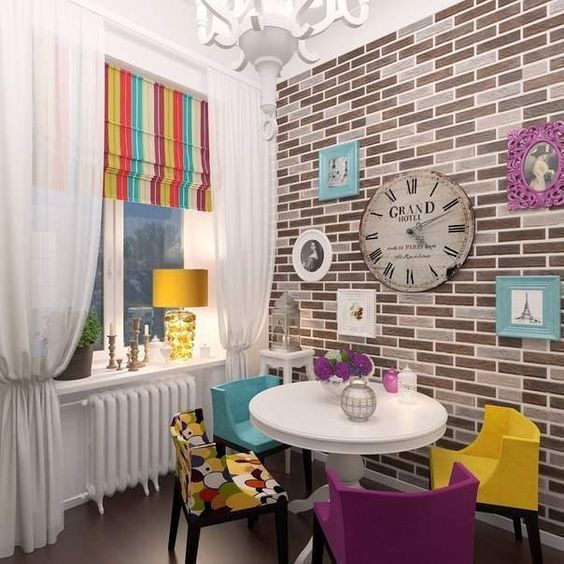 In only one corner of the kitchen place, you can see how you can enjoy cooking in the small corner kitchen island and in the same way to have a dining room. Here, you can eat breakfast with family, friend, kids, people you love and adore.
Please also check the following dimensions that will help you to maximize the space and cook in corner kitchen and dining room. I hope these dimensions will help you if you have a small home and a small kitchen.
Combination of white and green colored kitchen and little accent of grey gives the importnat accent to the kitchen place. Take a look in the photo now and find the idea in the photo now and make cooking easy for you, eat with style, cook with style and be happy to have a modern kitchen like this.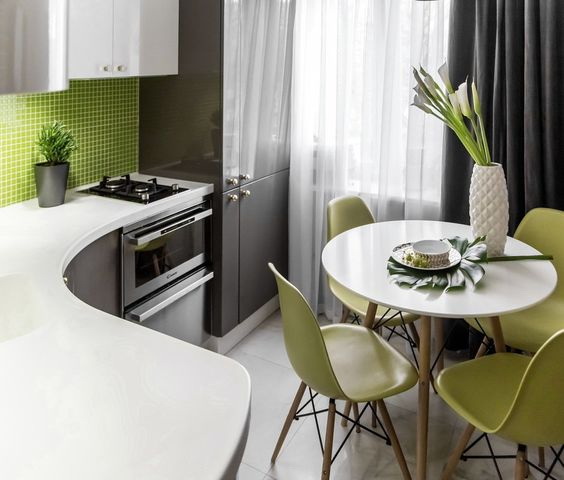 If you found an amazing idea for the home place and the small kitchen and dining area please also find some time and read about our last entrance halls designs and find some ide for your home place. Thanks for the time and attention of dear friends and have a nice start of the week!!!